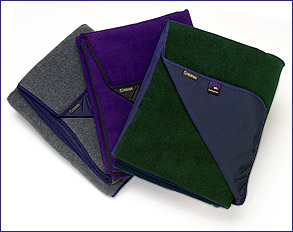 Only one can be THE BEST …
The Go-Blanket™ is it.

Why? Comfort, Quality, and Performance.
Polartec® Classic 200™ fleece, the highest quality there is.
100% Waterproof, not just water-resistant.
Picnic Blanket, Stadium Blanket, Comforter — outside or indoors.
Made in the USA.
Ever go on a picnic and the grass was wet? Or the seats at the ballpark were damp? Maybe you've wished for an extra layer at a football game to keep the wind and rain away. This 100% Waterproof blanket is so luxurious and cozy, you'll love the feeling of curling up in it!

Because it's breathable, you stay comfortable and dry when you're covered with a Go-Blanket — it doesn't get humid underneath the way that non-breathable blankets do.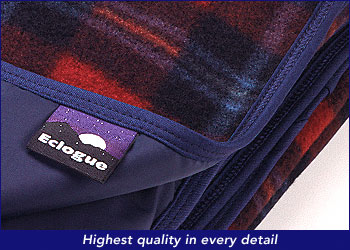 With sizes 29" x 36" up to 57" x 90", prices from $45.00 to $135.00 (shipping is included), and our Guarantee, Go-Blankets™ make excellent gifts. They're great for travel, and they can prove vital in an emergency. Order online now. It's easy, safe, and secure.

Made from premium quality Polartec® Classic 200™ fleece with a soft, breathable nylon lining, the Go-Blanket is exceptionally versatile all year 'round.

The Picnic Go-Blanket makes a light, comfortable outer layer for your bed on cooler nights. Many of our customers report that their Go-Blanket is their favorite comforter.
Talked to Mom again tonight, and she again wanted me to tell you how much she loves her blanket. She went on and on about how the warmth of it was "different" - that it wasn't heavy, but WARM. She has gotten quite attached - as have I. — Julie, Corvallis, OR.
Read more of what our customers say about Go-Blanket™ waterproof blankets. As you'll see, several have made multiple purchases.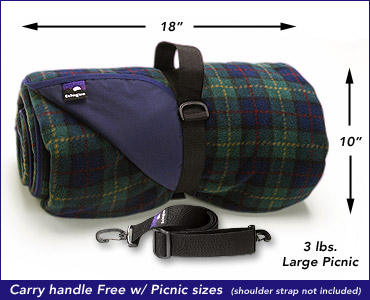 The Go-Blanket's lightweight, durable nylon lining feels soft and supple. It's made from the same fabric used by activewear manufacturers to make top quality ski jackets and pants. The Polarfleece and nylon layers are sewn together and bound with Lycra trim.

The Toddler Go-Blanket is a cuddly, windproof and waterproof cover-up for the stroller and a terrific play mat for indoors or outside. The taslan nylon lining has a soil and stain resistant finish — dirt and debris brush right off.

The Toddler size (29" x 36") weighs less than ten ounces and rolls up to the size of a small loaf of bread, so it's perfect for travel. It's great for visiting, when you want to protect a carpet or couch from the inevitable accident. In a pinch, flip it over and it's a large, machine-washable changing pad. And with reasonable care, it will stand up to years of machine washings. The Toddler Go-Blanket is an ideal baby shower gift.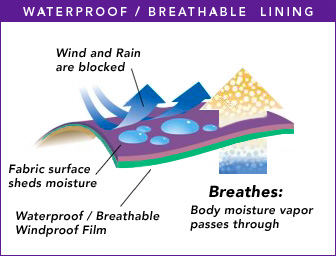 Laminated to the inside of the Go-Blanket's soft nylon lining is a hidden layer of 100% waterproof microfiber. Even as it sheds water, the lining "breathes" because the lamination has microscopic pores.

Water vapor molecules are hundreds of times smaller than the micropores, so humidity escapes through the fabric.

Liquid water droplets, on the other hand, are thousands of times larger than the openings, so water doesn't pass through.

With reasonable care, the Go-Blanket's waterproof performance can last for twenty years or more.



Polartec® Polarfleece® is the lightest, warmest, highest quality fleece available.




Imitations have much less warmth for the weight, feel stiff, don't breathe nearly as well, and they start shedding, clumping and pilling (making fuzz balls) the first time you wash them.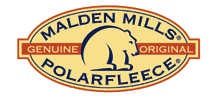 Polartec (formerly Malden Mills) Polarfleece costs somewhat more than other brands of fleece, but it's the most durable and has the best appearance. No natural material, not even wool, can give you the lightweight, breathable warmth that genuine Polartec fleece can. Polartec doesn't retain water, break down in appearance, itch, or pick up odors. It's also more resistant to shrinkage and much more durable than natural fibers. Learn more about Polartec Classic Polarfleece at polartec.com.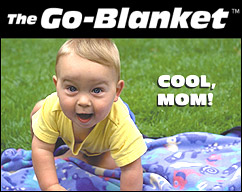 Eclogue makes Go-Blankets for picnics, hikes, outdoor concerts, camping, soccer games — anywhere people want the highest quality and performance in a warm, waterproof/breathable Polartec blanket. Line the floor of your tent with a Large Picnic Go-Blanket — thirty six square feet of super-soft fleece — or fold a 36" by 57" Hiker blanket into the back seat of the car if your pet ever gets soggy.

Our business offices are located in San Anselmo, California, and our manufacturing is in San Francisco.

The Go-Blanket — For Families on the Go!™

* * * * *

CARE RECOMMENDATIONS

Machine wash, wash and wear setting, warm water wash and cold rinse, using powdered detergent. Tumble dry, permanent press setting, remove promptly when dry. Do not iron. Avoid bleach and fabric softeners. We don't recommend dry cleaning your Go-Blanket.

To keep the Polartec the softest for the longest possible time, avoid the dryer and line dry your Go-Blanket.

* * * * *

We use only the best materials and workmanship on our Go-Blankets. If you follow the care recommendations, the waterproof performance of The Go-Blanket™ will last for many, many years.